History
My father, Friedrich Lang, had the name of our kennels "zum Kolbenguss" patented in 1970. The SV entered the name of our kennels, "zum Kolbenguss" on 17.11.1970 . Due to fading health I did take over the kennel from my father in 1997. I am Christian Lang.
My father died 15.10.1998 - we will keep his memory alive for ever!!!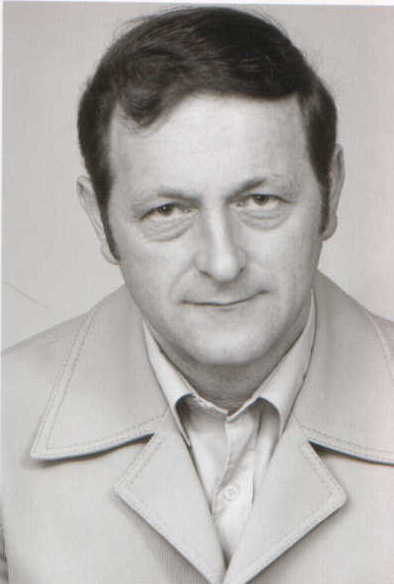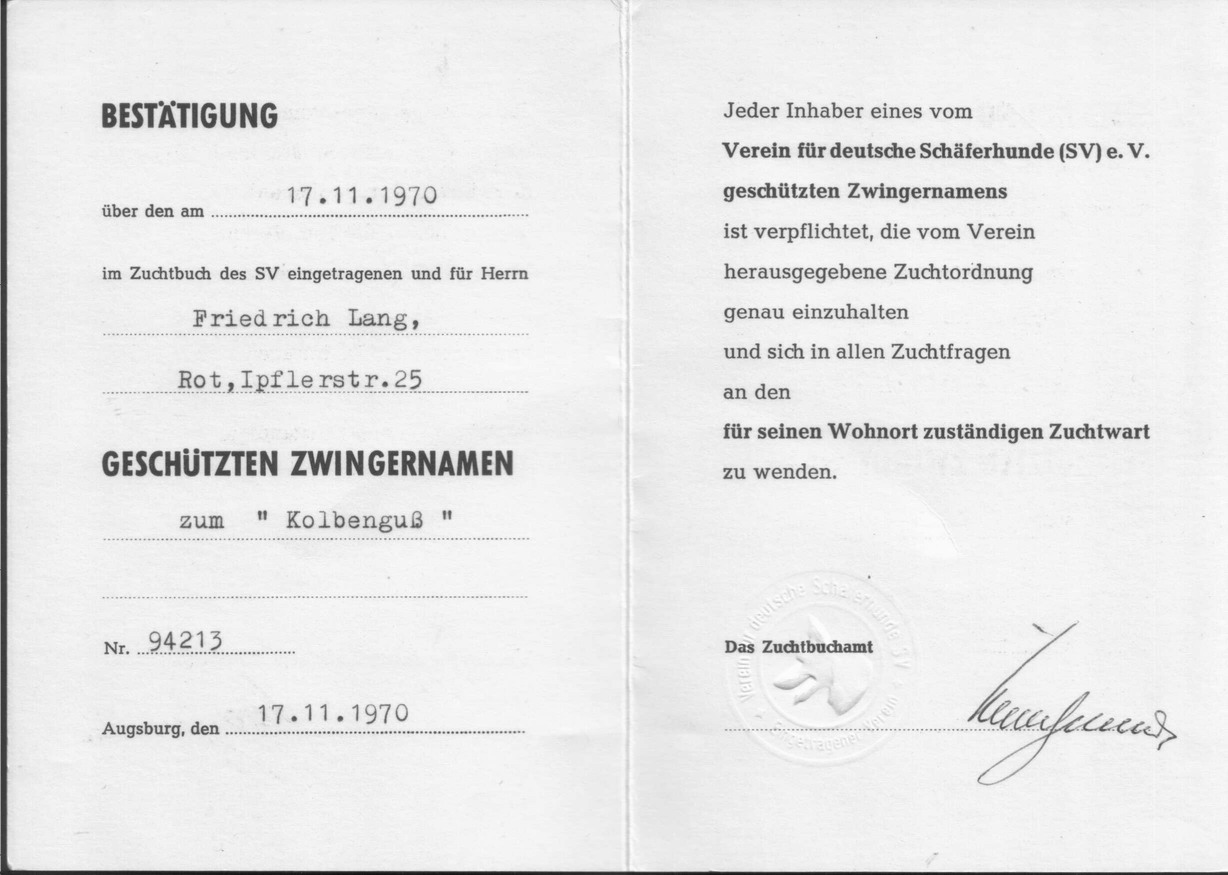 At the age of 10 I started to train my first dog by myself, to call at shows and to train for trials. I passed my first trial (SchH 1) at the age of 12.
Since 1985 I trained over 70 dogs for trials.
In 2007 the SV honored my successes in trial and training - I received the trial badge in "Groß-Gold" (meaning big gold) for my achievements in training and trialing dogs!
From 1996 to 2003 I was also a teaching helper in the LG Baden. In 1999 I was member of the team of helpers for the working dog classes at the SV-Siegershow in Karlsruhe.
My passion was always for both parts of dog sports - working and show.
The goal is to breed good looking dogs with a great character and a solid and good working ability.
My experience of doing dog sport since 1983 on every level has a high influence on everything the Kolbenguss team is doing.
Every year has the own "history" and tells new stories...
We would like to share with you some highlights of recent years!
In 2015 the SV honored and rewarded the hard work of the entire "Kolbenguss" team in breeding, showing dogs and presenting dogs on trials and breed surveys and shows since running the kennel under my breeder´s name, Christian Lang.
I received the highest breeders badge the SV can reward a breeder with - breeders badge in GOLD!
It is an honor and reward for everybody involved in the Kolbenguss team since 1997!
In 2014 we moved into our farm. The perfect home for our dogs, our horses and us. We have our own training field and over all the perfect surrounding for us. The moving took a lot of time and effort - breeding was not the top priority.
Never the less - Gabriel did some very nice shows with several victories, Fred was placed SG 1 as well and Charly was placed V 1 in working class.
2013 was dedicated to our wedding - Steffi and I got married in June!
Therefore we did not that much in dogs than usually. But never the less - Cherie and Charly zum Kolbenguss were placed SG 1 in several classes. And Charly zum Kolbenguss was placed in the top group wolrdwide - SG 33 in class 18-24 months in Kassel!
We are looking forward to next year - the youngsters look very promising ...

In 2012 we managed to place Yoko-Ono zum Kolbenguss in the top group worldwide - SG 37 in class 18-24 months.
Unique zum Kolbenguss reched V 1 in working class, Versace zum Kolbenguss was placed SG 1 in class 18-24 months and Bailey zum Kolbenguss started by winning her first puppy class - VP 1 in class 9-12 months.
Obi-Wan did also a good season with a lot of good results.
2011 - so far the greatest success in the history of our kennel.
First time ever team Kolbenguss was able to present a kennel group at the Siegershow in Germany.
Competing with the best breeders and kennels in the entire world!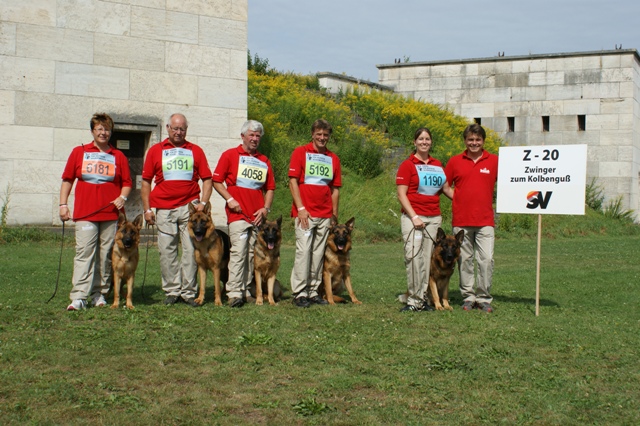 We did great - Kolbenguss kennel is No. 13 kennel in the world!!! In the kennel group we did present Xander, Wasabi, Verdi, Unique and of course Obi-Wan zum Kolbenguss. We (Steffi and Christian) would like to say thank you to everybody involved!
The entire season 2011 was really successfull - about 20 shows, many victories with Xander, Verdi and Unique. Pumpkin had a great season, too. Wasabi was placed in the best group at the Siegershow in Nürnberg.
And Obi-Wan did again outstanding - V 22 at the Siegershow 2011 in Nürnberg!!!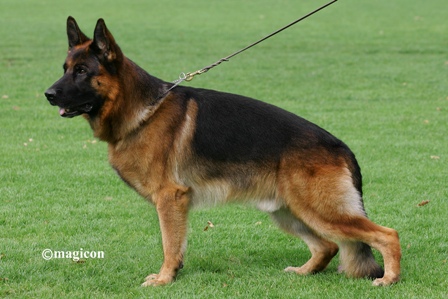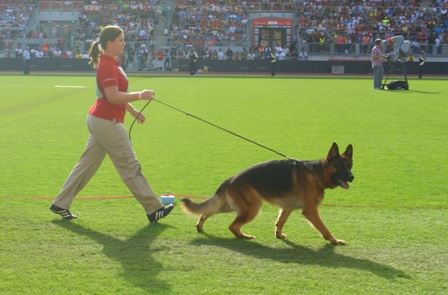 In

2010

we had great success with

Obi-Wan

-

V 1

rated and great result at the

Siegershow in Nürnberg, V 21

!!!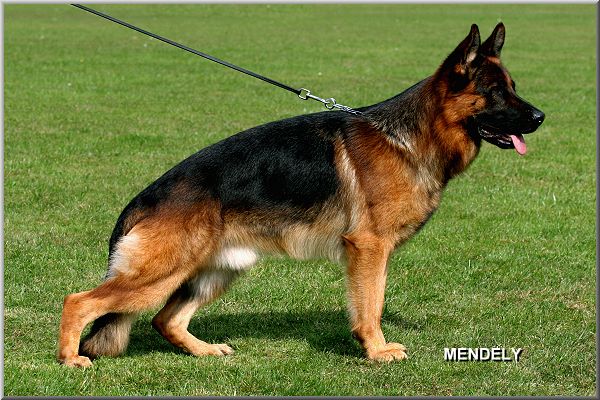 We also did great in international shows -

Qui-Gon is Sieger in USA

in class 18-24 months!!!
2010 was a year with great efforts and great success! Like V 1 with Obi-Wan and especcially handling dogs for our friends in the USA - VA and no. 3 in kennel group for Lena Melendez, VA 1 for Megan Judge and puppy sieger for Sabrina Hatfield!


2009

was a year we worked really hard - we took part in more than 15 shows and won a lot of classes! Malou, Obi-Wan, Pumpkin and Quatana did really great in 2009! Pumpkin was V 1 rated in working class, Malou 3 times V 2, Obi-Wan 3 times SG 2 and V 2 in working class, Quatana SG 1 and at the Siegershow in Ulm SG 49 and best group!
We did also great with Magnum´s progeny - Uso vom Sandstein reached several times SG 1 and SG 47 (best group) at the Siegershow in Ulm. And several other sons and daughters of Magnum did really good within the season, too. The well deserved result was a progeny group of Magnum at the Siegershow in Ulm!!! This was the first time ever a progeny group out of dog of our breeding presented a progeny group at the German Siegershow - a moment to remember!!!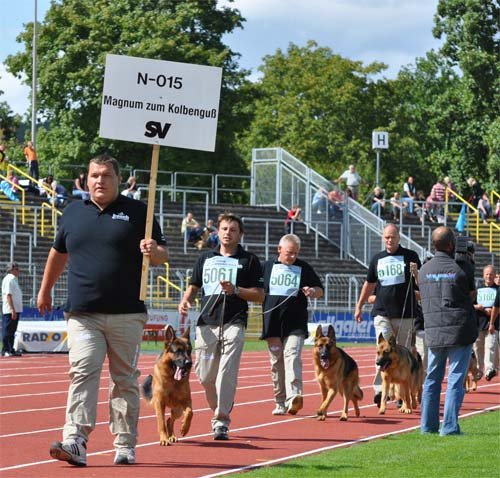 Interantionally we did help our frieds to win big trohies, too - VA in USA again!


2008

started great - V 1 with Magnum, V 1 with Lil´Kim, V 1 with Neelah (Justin daughter), V 1 with Rhona (Juma daughter), V 2 with Justin and Malou (all in working class!), SG 1 with Obi-Wan, SG 2 with Pumpkin SG 1. But we lost Magnum. He died 16. of September 2008 ... Now we hope that he will live on in his progeny ...
In the USA we handled for our friends helping them win titles like Sieger and VA!


In 2007 we managed to place a dog out of the kennel "zum Kolbenguss" ind the Top 20 of the BSZS - world´s biggest show event!!!
Magnum zum Kolbenguss receiving SG 14 in the class 18-24 months males BSZS 2007 in Braunschweig!!!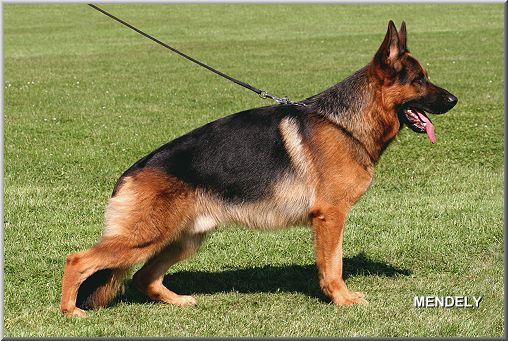 Also other dogs from our kennel did great - Malou was severl times class winner!
Justin did a great jurney to India - 4th place in the Siegershow!!!
And internationally we helped dear friends in the USA to achieve great success!!! Sieger and VA titles were the result of our help!


In

2006

we were able place great in the BSZS - Lil´Kim did very well! Juma reached vice siegerin in Baden. And Magnum and Malou were able to win first shows - with real good perspectives for the future. Jamie is now settled in the USA. We are always happy to help our international friends to handle their dogs - again VA titles with dogs from our dear friends!


In

2005

we had a lot of success especially with our J-litter - Justin, Juma and Jamie did great in shows!


In 2004 the team Kolbenguss did train Fendi von Wilhendorf - we did great! SG 16 BSZS, SG 1 NASS..
In 2003 the breeding history of Helen started - her first litter! The beginning of a great breeding history ... And it was also the start of the international connections to the USA. Since 2003 we are constantly in the USA helping old and new friends showing their dogs!
The years

2000-2002

I did concentrate on getting a lawyer ;-)))
Yours,
Christian Lang